As always I love finding new stores, designers & product lines; I was thrilled when Ropes & Rhinestones started following me on Twitter the other day (yes Twitter, it's kind of a silly addiction follow @Horsesandheels_  if you would like). Ropes & Rhinestones offers great accessories with the perfect amount of cowgirl flair.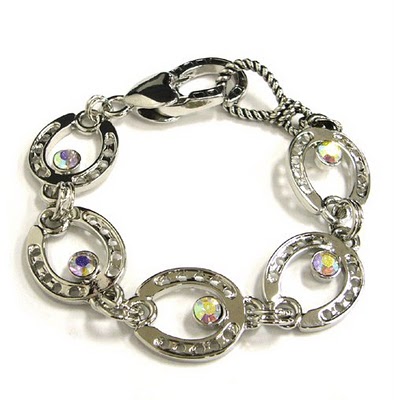 Christmas may be over but shopping never is & now is the best time to buy for yourself. This horseshoe bracelet is so pretty, I love the crystal accents.
Black & white is always a great choice, this bracelet makes a great statement piece. Be sure to visit Ropes & Rhinestones
online
to order or just search for them on Facebook. I pulled all of these photos from their Facebook page.
I'm definitely thinking spring with this bright & colorful ring! Ropes & Rhinestones also carries purses, caps & clothing as well. I also am in love with the Ropes & Rhinestones logo, it's my initials & just looks so adorable!
Guns? You couldn't get me near a real one but the matching rings & necklace are awesome! Personally I wouldn't wear them together as a set because I would feel too "matchy" but if you are going to buy the necklace you might as well get the ring too.
There are some many more great pieces available & the prices are even better too! I think I started this post a couple of hours ago & spent a majority of my time just browsing the collection.