Your saddle is one of the most important items for you & your horse. It needs to be comfortable, fit well & of course looks do matter. I currently have a Charmayne James barrel saddle by Cactus Saddlery. It's comfortable & looks great; pink ostrich seat, flower tooling & multi-colored jewels. It's beautiful & it fits Rumor perfectly. She needs full Quarter Horse bars & I have limited options when it comes to picking out saddles but the Cactus saddles are great.
But for now allow me to introduce you to Double J Saddlery.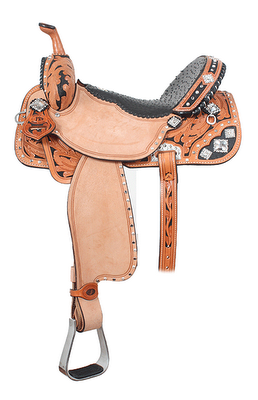 In a classic black, clear crystal accents, ostrich seat with diamond shaped conchos. These saddles come with a high price tag… try a little over $4,000 for this saddle.
A personal favorite of mine is this Double J with pink tooling & a pink ostrich seat. It's almost $4,000.00
If you like the blue go for the full quill ostrich seat with matching corner plate inlay and cross conchos. The tooling is spectacular with black rawhide across the pommel and cantle. Price tag of $5,000
Lime green please? I love the dark leather tooling mixed with the lime. Concho flowers for a little over $4,000
A personal favorite! This saddle is hand tooled and hand painted. I love the contrast of pink & green, floral conchos & pink swaroski crysta
ls.