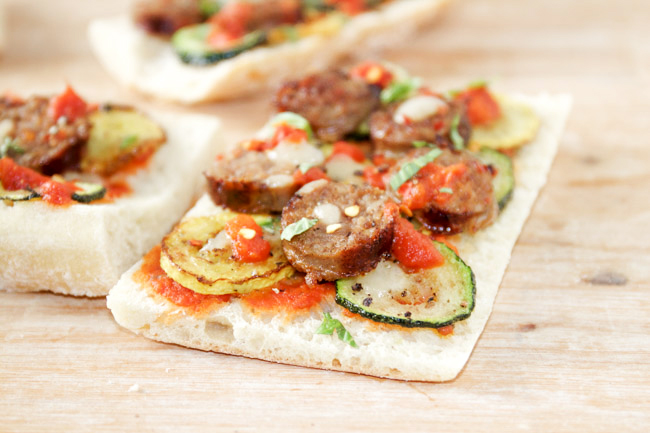 I have missed my time in the kitchen, the last real recipe I shared here were these Chipotle and Rosemary Sweet Potato Burgers, and that was over a month ago. June has been hectic but I have been cooking up a storm this week; from steak to cucumber lemonade to experimental pancakes, it's good to be back. This Sausage and Summer Squash Flatbread is perfect for lunch or dinner, enjoy it alone or serve it with a nice salad. You can make it with spicy or sweet sausage, naturally I decided to go with spicy sausage because I like things hot. Summer squash and zucchini are in season right now so I picked up a bunch of it on sale along with a loaf of ciabatta bread that was calling my name.
The ciabatta bread was a nice quick alternative to making a flatbread and it slices nicely.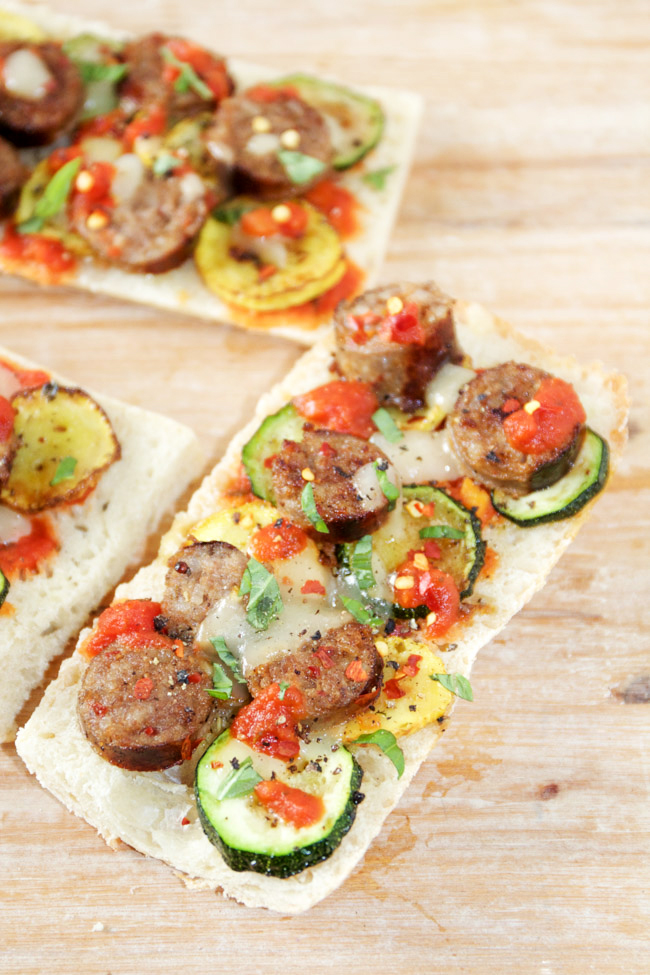 This oven baked flatbread is a nice healthy option compared to pizza and still is packed with plenty of flavor, I used just a touch of red sauce and some garlic herb olive oil. You can make your own or buy some at the store, but a good garlic infused olive oil should be a kitchen staple (in my opinion). Quality and fresh ingredients are key for this recipe but so is cook time, I made sure to slightly char my zucchini and squash in the skillet and I also cooked my sausage. It is the oven's job to make that ciabatta bread crispy and melt all of the ingredients together.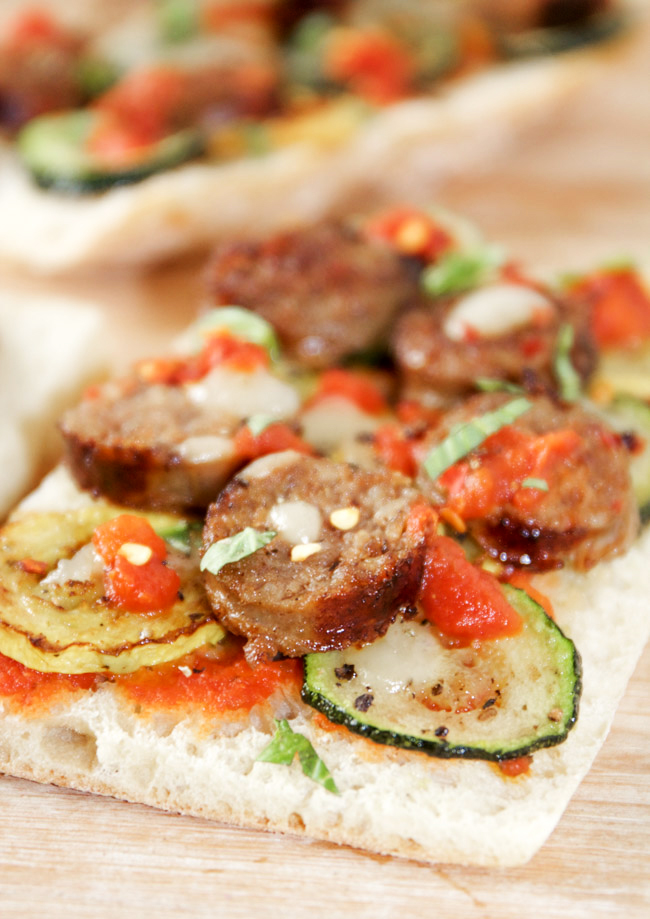 Sausage and Squash Flatbread
A crispy ciabatta bread topped with zucchini, summer squash and sausage.
Serves:
4 individual flatbreads
Ingredients
4 pieces of ciabatta bread cut into six inch pieces lengthwise (you may substitute with other flatbread)
15 thin slices of zucchini
15 thin slices of yellow summer squash
2 pieces of spicy or sweet sausage (the jumbo size for sandwiches)
4 tablespoons red sauce
garlic herb olive oil
Crumbled parmesan cheese (about ¼ cup)
Optional but highly recommended - fresh cracked black pepper and fresh basil leaves and crushed red pepper.
Instructions
Pre heat your oven to 350 degrees.
Cook the zucchini and squash. Add the sliced zucchini and squash to a large skillet with about a tablespoon of garlic herb olive oil and cook over a medium to low heat for about 14 minutes until the slightly browned on each side, flipping halfway.
Cook your sausage. Add the sausage to another skillet, cover and cook over a medium heat for about 15 minutes, turning occasionally. Remove the sausage from the pan and cut into slices, this is a great way to check for any pink. If you see some, return it to the skillet for another 5 minutes, plus it helps get things nice and crispy.
Prepare your flatbread. Smear about ½ a tablespoon of red sauce on each piece of flatbread, drizzle with garlic herb olive oil and begin layering zucchini, squash and sausage on each piece. Add an additional ½ tablespoon of red sauce on top of the each piece, sprinkle with parmesan cheese and then place the flatbread in the oven.
Bake for about 20 minutes until the bread is nice and crispy.
Remove the flatbread from the oven, top with fresh basil leaves, cracked black pepper, red pepper and serve immediately.
Nutrition Information
Serving size:
2 flatbreads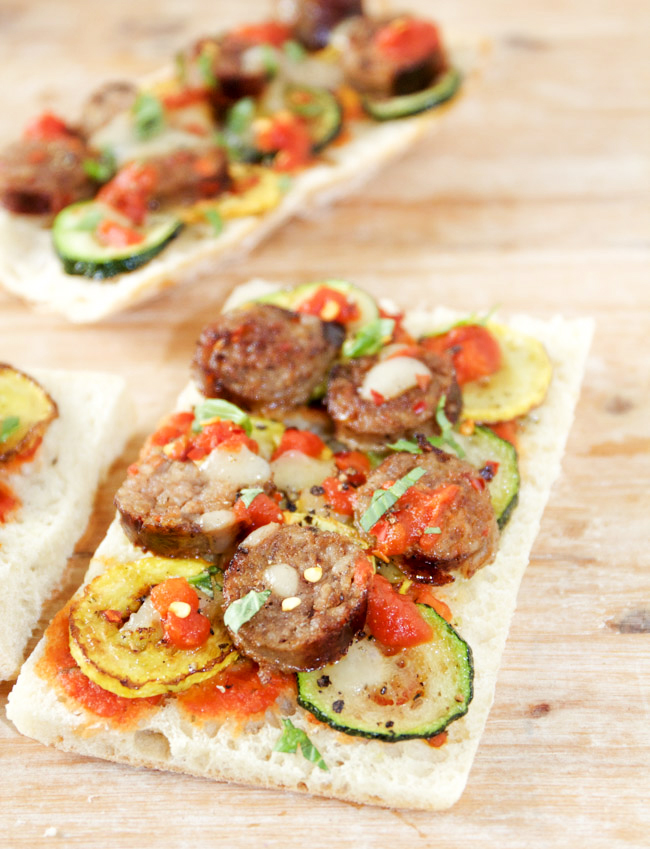 This also goes great with a nice glass of wine after a long day.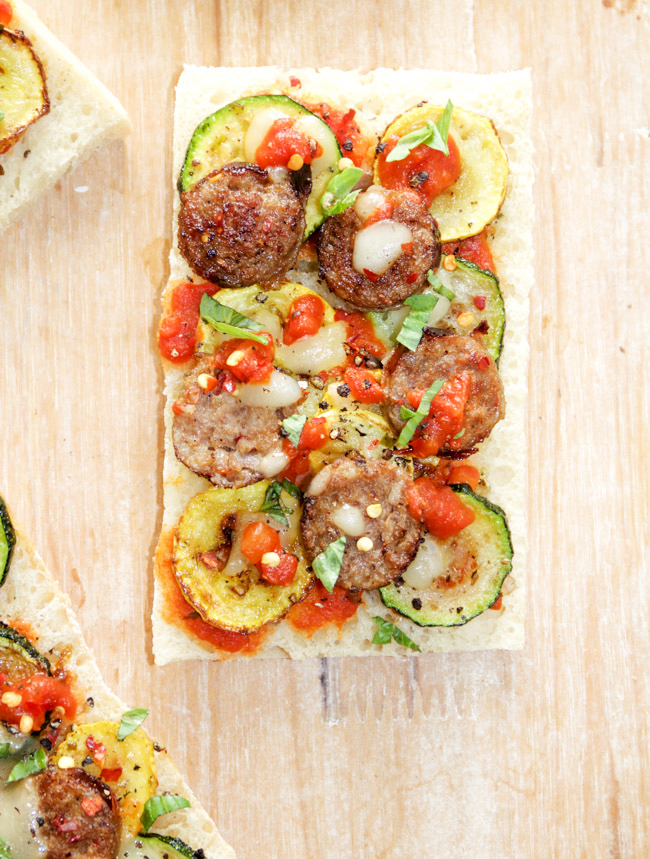 I hope you will give this recipe a try, you won't be disappointed!
Want more flatbread and pizza? Check out my recipes for Tomato Basil Swiss Flatbread, Southwest Pizza, and Brussels Sprouts and Bacon Pizza.