Sparkling Peach Moscato and fresh peach sorbet makes a delicious treat for girls night.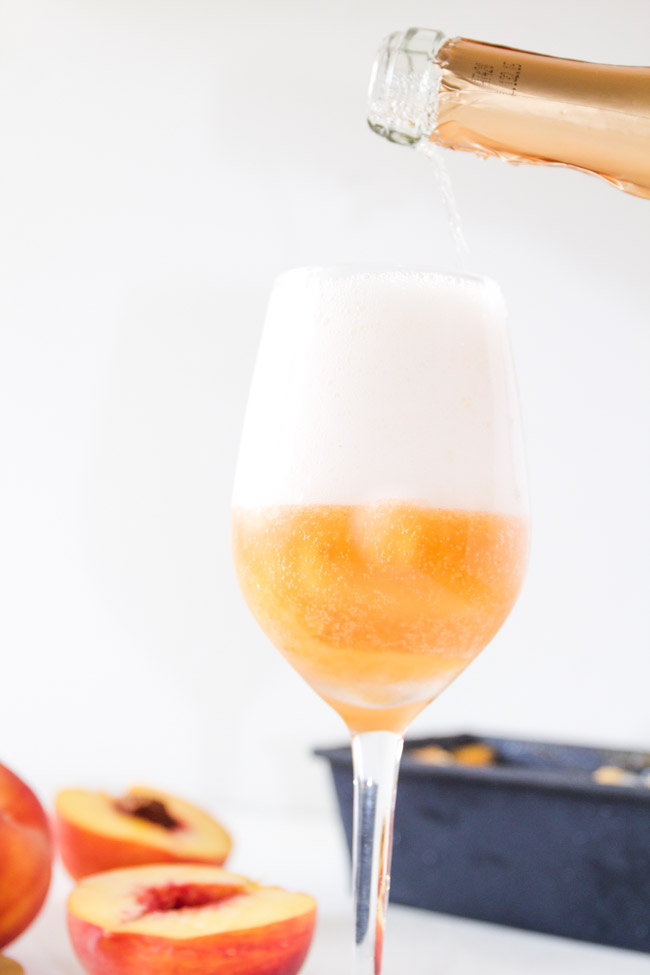 This delicious recipe and blog post is sponsored on behalf Caposaldo Wine via One2One Network. All opinions stated are my own and Horses & Heels loves its sponsors! I created these Sparkling Peach Sorbet Floats for a fun girls night in with Caposaldo. Caposaldo Wines are handcrafted Italian wines created with high standards for flavors and pairings. Available at a perfect price point, these wines are great for any occasion. CaposaIdo has two wine categories; the classics (Pinot Grigio, Chianti, Prosecco, and Moscato) and sweet sparkling wines (Sweet Moscato, Sweet Peach Moscato, Sweet Pink Merlot Moscato and Sweet Red Sparkling. I was able to select two wines to try and decided on the classic Pinot Grigio and the Sweet Peach Moscato.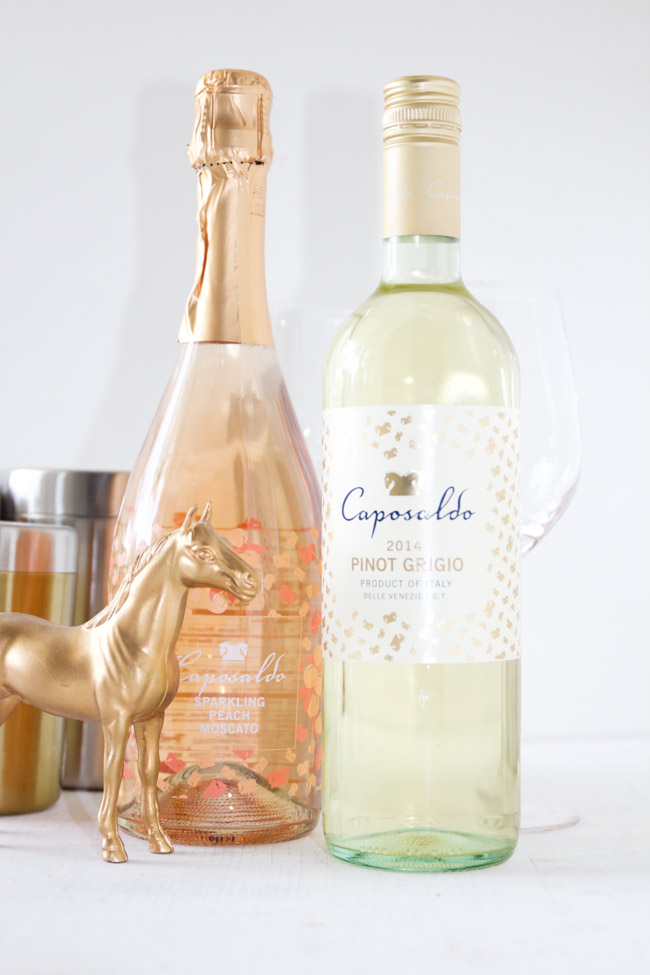 The Pinot Grigio can pair with fish, white meats, pasta dishes and delicate cheeses. It's a medium-bodied wine and has the aroma of apples, flowers and almonds.
The Sweet Peach Moscato has the flavor of sweet peaches, citrus and honeysuckle. Pair this with a light dessert, sorbet, or fresh fruit (like my peachy sorbet).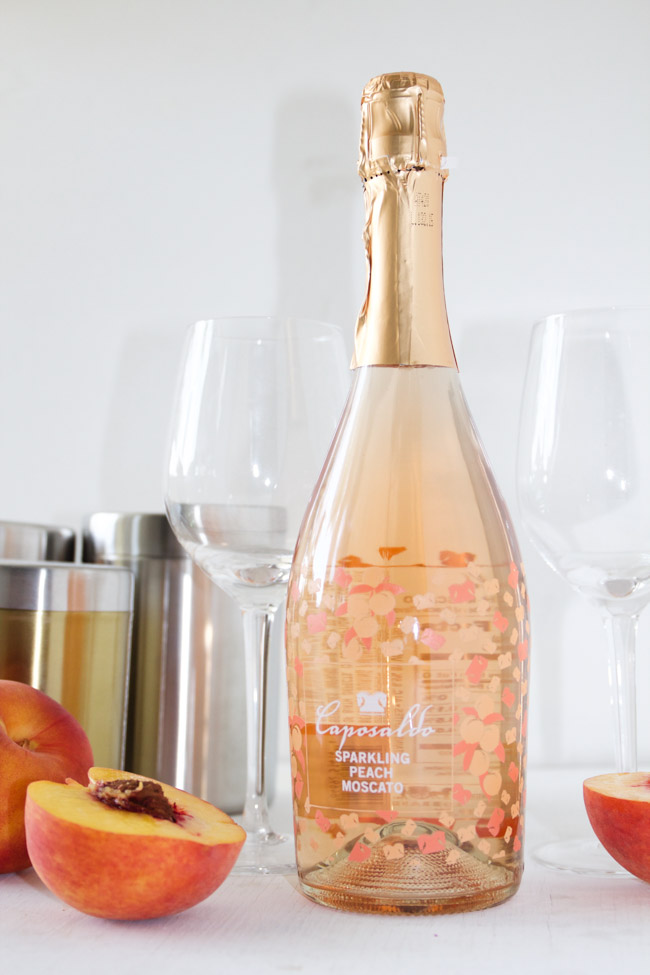 I know we aren't supposed to judge things by appearances but I heart these bottles and the Caposaldo logo! In Italian the name "Caposaldo" means benchmark and "Caposaldo" can also mean strength and that's why they chose a powerful horse for their logo. I definitely approve and hated opening these pretty bottles and wanted to leave them on display.
If you are looking for the ultimate girls night in dessert, making these Sparkling Peach Sorbet Floats for something bubbly and sweet. This drink is classy and easy to make; it pairs nicely with good gossip and Netflix.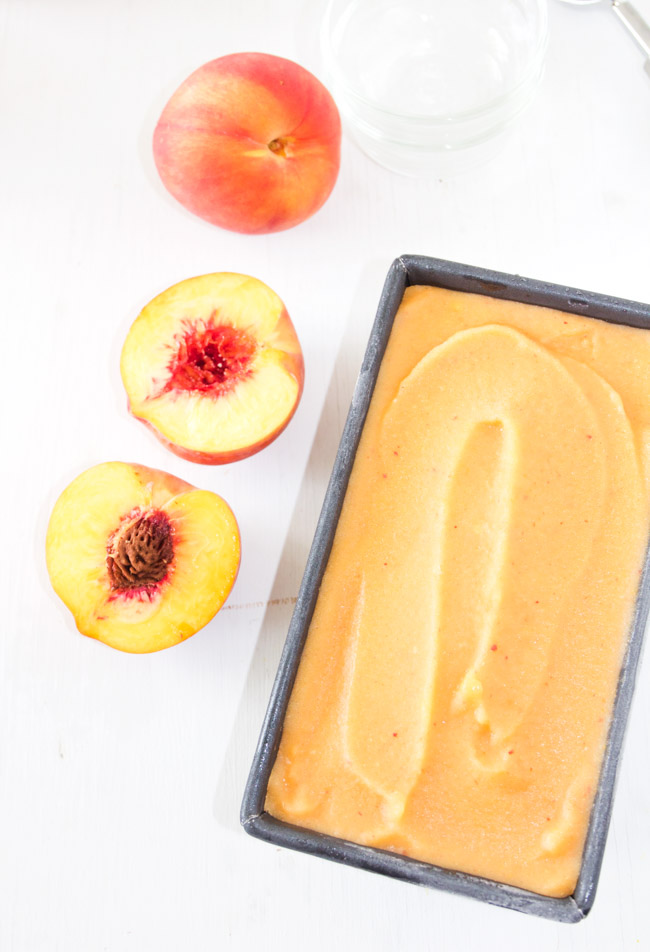 This fruity sorbet is low in sugar and high in flavor! I also added a little bit of cantaloupe to the mix, you could substitute it for two more peaches if you don't like cantaloupe but I love how it pairs with the peaches.
Fresh Peach Sorbet
A fresh and fruity peach sorbet with just a hint of cantaloupe.
Ingredients
4 large ripe peaches
2 cups cantaloupe, pieces
½ cup white sugar
¼ cup water
1 tablespoon lemon juice
Instructions
Freeze the peaches and cantaloupe:
Peel the peaches, remove the pits and slice.
Add the peach slices and cantaloup to a few zip lock bags and place them in the freezer overnight.
Blend:
Add the frozen peaches, cantaloupe, sugar, water and lemon juice to a blender.
Blend on high and pour the mixture into a 1 pound metal loaf pan. Or enjoy the sorbet soft serve style immediately.
Freeze in the loaf pan for at least 4 hours or overnight.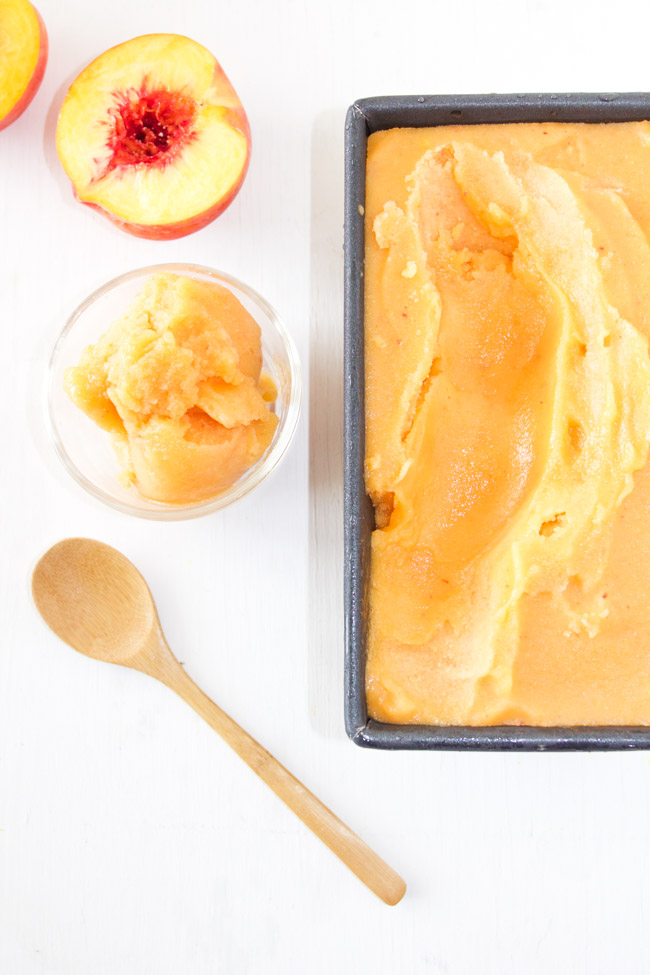 Now, lets make those delicious floats…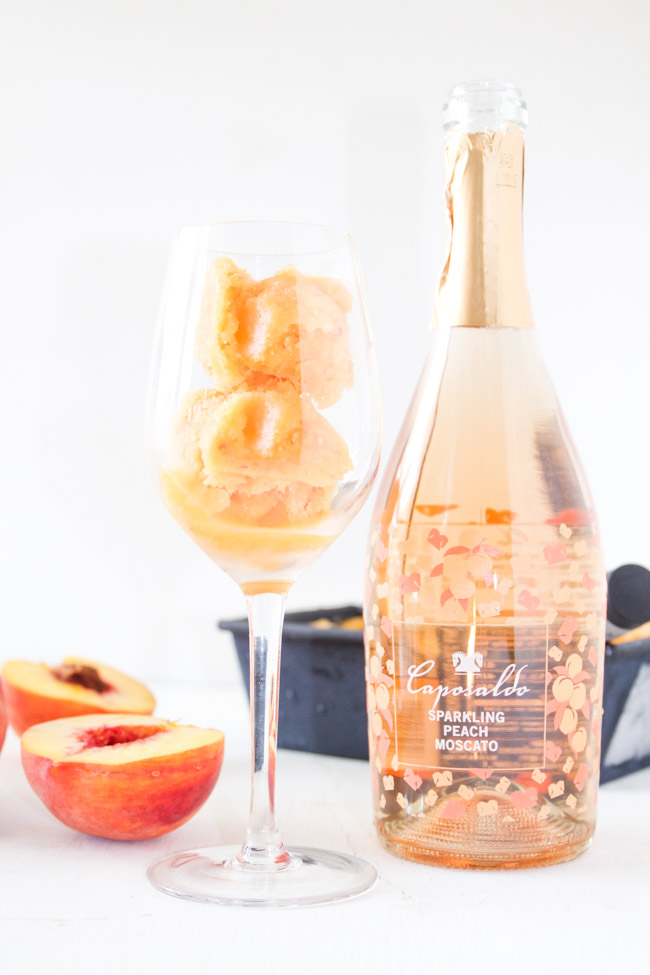 Scoop some sorbet into a wine glass.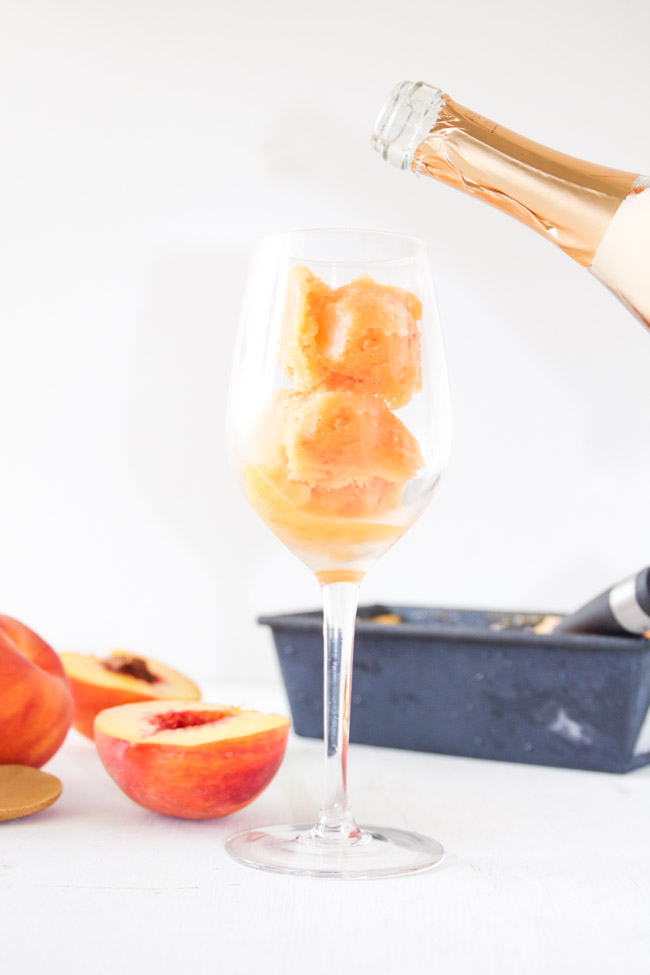 Pour the Sparkling Peach Moscato over the sorbet.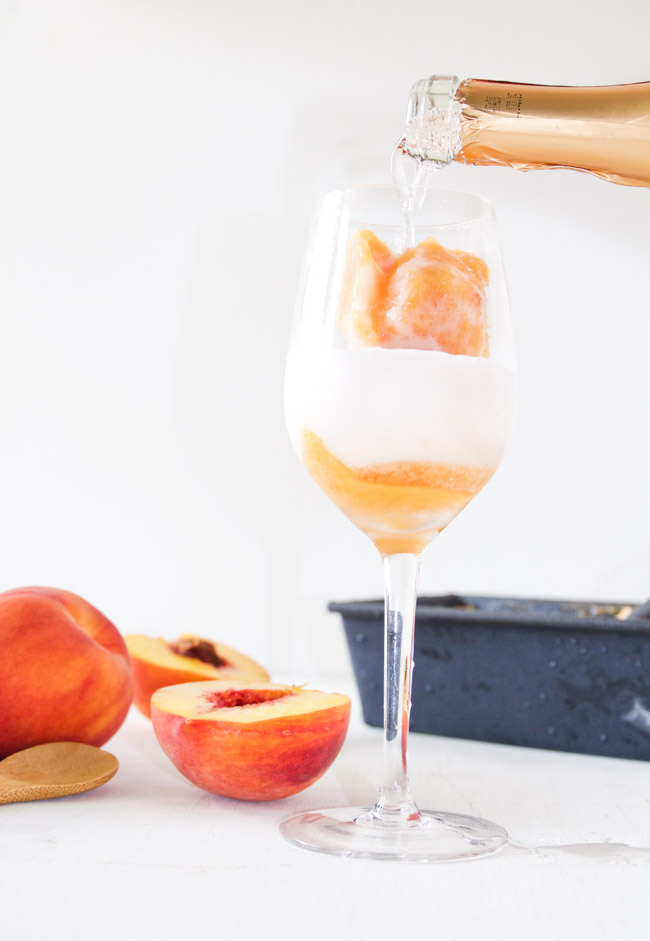 It will bubble and fizz.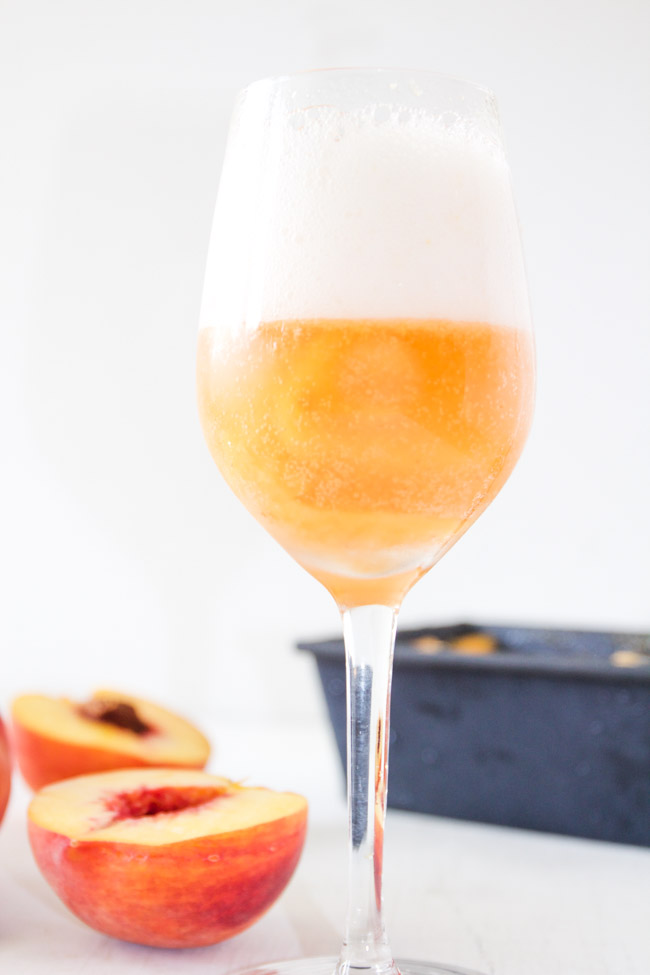 Sip and enjoy!
Caposaldo Wine is available nationwide and at a store near you, all wines are at affordable price points and are under $16.00 per bottle. Learn more about their wines online or visit Caposaldo on Facebook >