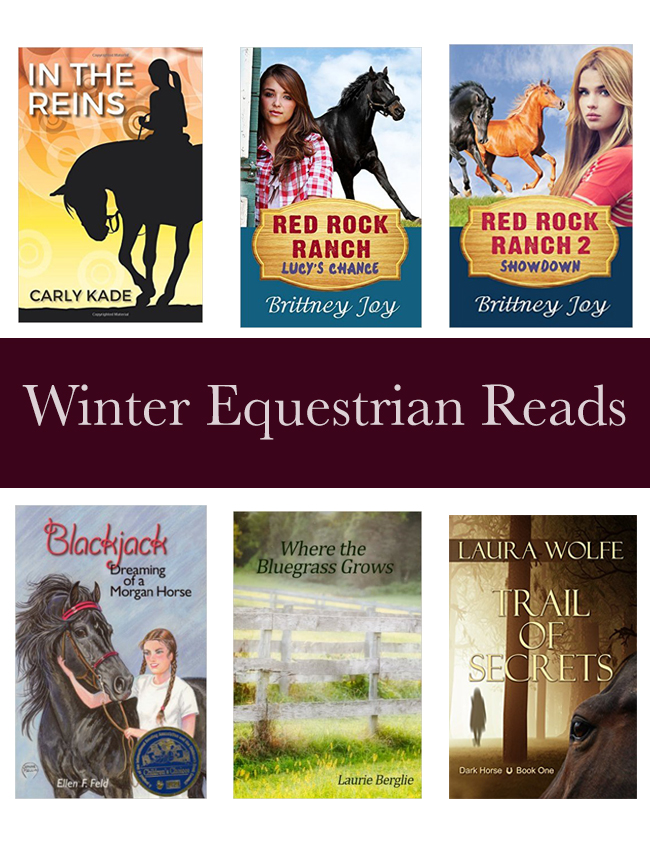 Looking for a good book to curl up with under the covers this winter? Check out one of these novels, guaranteed to be loved by any equine enthusiast. Winter is the perfect time to do more reading, for those of you who have a fireplace to cuddle up to, I'm jealous. Keep on scrolling to find out how you can win all six books!
1. In The Reins by Carly Kade
Cowboy McKennon Kelly was the last thing Devon Brooke wanted to focus on after finding herself suddenly single. Looking for a fresh start to life, city girl and journalist Devon just wanted to go back to her country roots and focus on building a relationship with her newly acquired equine partner Faith.
Devon finds companionship in handsome bull riding ranch hand JD and delicate Green Briar horse farm owner Sophia, both who advise Devon to keep her distance from McKennon and "mind her p's and q's" around the quiet and eerily peaceful stables. Devon thinks it shouldn't be too difficult to avoid the Adonis cowboy, but after noticing his skills and expert ways with training horses, she figures it couldn't hurt to get to know him a little bit … right?
Devon follows the guarded cowboy to a horse show, where she is unprepared to learn she may not be the cowgirl she thought she was. After a near-tragic incident, Devon begins to realize that the more time she spends with McKennon, the less she really knows about him (or horses, for that matter), and his mystery just keeps getting bigger. Who is he really, what is it that everyone doesn't want her to know, and why is this tight-shirted, spur-jingling, weather-eyed cowboy all she can think about now?
Buy the book on Amazon or purchase an autographed copy from Carly on her website, carlykadecreative.com
---
2. Red Rock Ranch Lucy's Chance by Brittney Joy
Sixteen year old Lucy Rose is spending her first summer away from home and she has two things on her mind: an abandoned, violent horse and a blue-eyed cowboy. Only neither is hers.
Lucy has never attracted much attention from boys, but she can't seem to ignore her blue-eyed co-worker, Casey Parker. A true cowboy, Lucy is fascinated by his gentle way with the horses at Red Rock Ranch. However, she is very aware that Taylor Johnson, rodeo queen extraordinaire, already has her spurs in him. And, there's no crossing Taylor.
. . . Not until a mysterious horse appears on the ranch and pushes Lucy and Casey together. The two are willing to do anything to save the black gelding that doesn't want a thing to do with them or the human race. But, every step forward with the broken animal makes Lucy fall harder – for him and for Casey.
Buy the book on Amazon.
---
3. Red Rock Ranch 2 Showdown by Brittney Joy
Taylor and Lucy mesh together like a tight cinch and a broncy horse – an explosion waiting to happen.
. . . Blonde and sassy, Taylor Johnson is used to guys falling at her feet. Blue ribbons always come easy. And, dropping a grand on new cowboy boots and a pair of chaps is the norm. So why does the new stablehand keep getting under Taylor's skin?
. . . A newbie to Red Rock Ranch, Lucy Rose is comfortable in a ponytail and jeans. Her makeup routine consists of a dirt smudge and chapstick. And, if she had her choice, she'd spend every minute with her beloved horse Chance . . . and far away from Taylor, the rodeo princess in need of an attitude adjustment.
But, in a twist neither saw coming, Taylor and Lucy are forced to work together. Will they play nice? Or will their summer at Red Rock Ranch go out in a bang?
Buy the book on Amazon.
---
4. Blackjack Dreaming of a Morgan Horse by Ellen F. Feld
Blackjack, the first in the Morgan Horse series, introduces the character of Heather Richardson. A young horse-lover, Heather has been haunted by dreams of a very special Morgan Horse. She soon learns that the horse really exists and is thrilled when she is asked to care for him. With the help of Blackjack's owner, Heather learns to ride and show the horse and the two quickly form a very special bond. When tragedy strikes and Blackjack falls into the hands of an abusive trainer, Heather must find a way to rescue her horse before it is too late…
Use promo code HorsesandHeels20 to save 20% off your purchase at willowbendpublishing.com
---
5. Where the Bluegrass Grows by Laurie Berglie
"When fiction writer Molly Sorrenson realized her real life was starting to read like one of her novels, she knew it was time for a break." Tired of her life in Maryland, Molly packs her bags and heads west to Lexington, Kentucky, where she'll spend the summer with her best friend, Macy. Molly's looking forward to riding horses, doing a little writing, and taking a break from her love life. But then she meets Beau Bridges, a handsome horse vet who steals her heart and turns her world upside down. As the summer heats up, so does their romance. But when Beau's past comes back to haunt him, Molly must decide if she should stay in Kentucky, or return home, alone.
Buy the book on Amazon.
---
6. Trail of Secrets by Laura Wolfe
Spending three weeks of her summer at the elite Foxwoode Riding Academy in northern Michigan should have been one of the happiest times of sixteen year-old Brynlei's life. But from the moment Brynlei arrives at Foxwoode, she can't shake the feeling she's being watched. Then she hears the story of a girl who vanished on a trail ride four years earlier. While the other girls laugh over the story of the dead girl who haunts Foxwoode, Brynlei senses that the girl–or her ghost–may be lurking in the shadows.
Brynlei's quest to reveal the truth interferes with her plan to keep her head down and win Foxwoode's coveted "Top Rider" award. To make things worse, someone discovers her search for answers and will go to any length to stop her. As she begins to unravel the facts surrounding the missing girl's disappearance, she is faced with an impossible choice. Will she protect a valuable secret? Or save a life?
Buy the book on Amazon or locally through Laura's website, authorlaurawolfe.com
---
The Giveaway:
Enter to win the books above and share them with your mother, daughter, or best friend.
1. Leave a comment on this Facebook photo.
2. Then share this photo on Facebook to tell your friends about the giveaway.